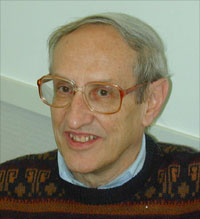 I am retired now as Professor Emeritus of Education and Social Policy at Northwestern University. I've studied teaching and learning for over 30 years, and written extensively on related topics. My book with Richard Halverson entitled Rethinking Education in the Age of Technology: The Digital Revolution and Schooling in America and my recent book entitled What's Worth Teaching: Rethinking Curriculum in the Age of Technology were published by Teachers College Press in 2009 and 2017 (also available from Amazon and Barnes and Noble). Information about my upcoming speaking engagements is available through my Facebook account.
From 1991 to 1994 I was Co-Director with Jan Hawkins of the US Department of Education's Center for Technology in Education. I also served as a founding editor of the journal Cognitive Science and as first chair of the Cognitive Science Society. Recently I was chosen by French psychologists as one of 37 living scholars who have had the most impact on the field of psychology.
I am best known in psychology for my work on semantic memory and plausible reasoning, in artificial intelligence for my work on reasoning and intelligent tutoring systems, and in education for my work on situated learning, inquiry teaching, epistemic forms and games, design research, and cognitive apprenticeship.
Read more about Professor Collins on Wikipedia.
---
Latest Book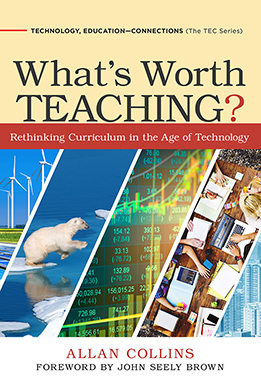 This important contribution to the future of education, by bestselling author and renowned cognitive scientist Allan Collins, proposes a school curriculum that will fit the needs of our modern era. Offering guidelines for deciding what is important to learn in order to become a knowledgeable person, a good citizen, a thoughtful worker, and a valuable friend in the 21st century, Collins considers the qualities needed for a healthy and productive life. Taking a close look at how advances in technology, communication, and the dissemination of information are reshaping the world, this volume examines how schools can foster flexible, self-directed learners who will succeed in the modern workplace. A concluding chapter presents a broad new vision for how schools can be redesigned to teach the kinds of knowledge and skills students will need in an increasingly complex society and global world.
Book Features
Identifies global trends and their implications for what we should be teaching our children.
Explains how schools are teaching an outdated curriculum.
Proposes a radical revision of the math and science curriculum.
Describes how literacy is changing in the digital age.
Reviews
"Novel and revolutionary, this book is a much-needed wake-up call for imaginatively rethinking what education needs to become in this complex, networked, and radically contingent world."
—From the Foreword by John Seely Brown, visiting scholar and advisor to the provost, University of Southern California
Every book club, city council, school board, parent group, and teacher research network should dedicate time toward reading this book. Old and new ideas come together around our most essential gifts as humans: curiosity and self-reliance set firmly on a foundation of connection, passion, and caring. This book is such a gift to us at this critical time.
—Shirley Brice Heath, professor emerita of English and linguistics, Stanford University
"What are the powerful ideas that will make students productive citizens and allow them to live lives of meaning and fulfillment? How can we foster love of learning among our youth? They will need that to participate in a world where changes are happening faster than ever. This book helps us imagine what this kind of education would look like. Armed with that imagination, we might even be able to make it happen."
—Janet Kolodner, chief learning scientist, Concord Consortium, and professor emerita of computer science, Georgia Tech
"In a post-industrial millennium where software and automation threatens a vast proportion of jobs globally, we need a foundational education so that all people can become the adaptive lifelong learners they will need to be in a world where an accelerating pace of change is the only constant. Collins' manifesto launches the comprehensive conversation we need on the future of learning."
—Roy Pea, David Jacks Professor of Education and Learning Sciences, Stanford University
Purchase my book on Amazon >>